Ethiopic Chat App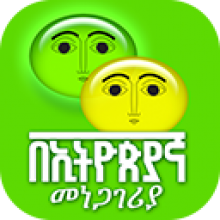 We're proud to announce that our new AMHARIC MESSENGER APP will be available on both iTunes and Android stores for FREE Friday, September 26/2014. Ethiopic Chat is the first messenger available for iPhone, iPad, Android and other smartphones.  Ethiopic Chat uses your 3G, 4G or Wifi to message with friends and family.
- Full Amharic keyboard.
- NO additional Amharic font download required.
- Works in all devices small or large.
- Send chats to none iOS device users.
- Receive chats from none iOS device users.
- OFFLINE MESSAGES If you turn off your iPhone, Ethiopic Chat will save your message offline until you retrieve them during the next application use.
- Set a profile photo which will be shown to all your contacts.
- You can save multiple friends in Amharic/English.
- INVITATION You can send unlimited invitations to your friends.
Updated: Ethiopic Chat App is available NOW!  
Sep.26/2014
DOWNLOAD NOW!