Windows 10 unveiled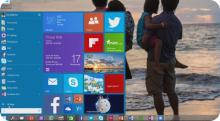 Microsoft has unveiled Windows 10 — not Windows 9, but Windows 10. The launch event in San Francisco was mostly what we expected: Microsoft wants to make Windows 10 a killer OS for all of those disaffected mouse-and-keyboard users — both normal Desktop users like you and I, and also the big enterprise customers who were rather displeased with Windows 8′s Metro interface.
The Windows 10 Technical Preview will be released tomorrow, October 1. Once it's released, we'll be sure to install it on a range of devices here in the ExtremeTech bunker to give you our hands-on impressions and lots of cool screenshots. In the mean time, read on to find out about Windows 10′s new features and changes from Windows 8.
For some smaller details, you may want to see our story covering the Windows 10 unveil. Over time we will update this story so that it's the definitive source of Windows 10 changes and features.